Cineru Host Terms
Late Payments – Hosting
All service renewal bills are generated according to the dates they were first activated on.  The service will be suspended on the 4rd day from the due date and terminated on 20th day from the due date. Late fee of Rs:200.00 ($1.09 )
Backup Polic

We do not take any Backup
Links to unacceptable content, or as defined above, are also prohibited and will be suspended without any prior notice
Unlicensed applications

Cracking programs or key generators

High Yield investment programs or HYIPs and related monitors, top list etc.

Child pornography or kidnapping material

Fraudulent activity, phishing, pyramid schemes, chain letters, forgery, or impersonation


Terrorist propaganda, racist material, or bomb/weapon instructions

Virus, Spyware, Malware, or other infectious material.

Material protected by trade secret or other statute.

Adult Content, Dating Sites, forums, hacking scripts, scripts that abuse server etc.

Torrents/Warez or any other related websites are strictly forbidden.

E-commerce websites are strictly not allowed on shared hosting servers.

IRC and associated programs (including psybnc, bots, etc.)

Game servers, voice servers and related applications.

Scripts commonly used for abuse, attacks, or flooding

Threatening, harassing, or obscene content
Any attempts to undermine or cause harm to the Cineru Host equipment, network, operations, or clientele is STRICTLY prohibited. 
Denial of Service Attacks (DOS/DDOS)

Unnecessary Port Scans

Mail Bombing

Unsolicited Advertising via IM, Forums, Newsgroups, Email, etc..

Any Hacking Activity.
* 99.99% Server Uptime
* Advanced PHP Selector
* DDOS Protections
* Virus Scanning
* Imunify360 Proactive Defense™
* One Click App installation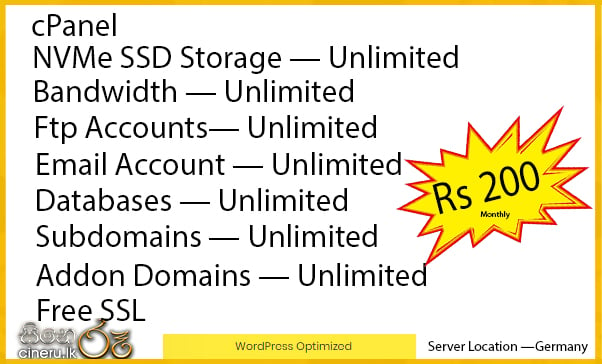 වැඩි විස්තර දැනගැනීමට හෝ මිලදී ගැනිමිට මෙතන ක්ල්ක් කරන්න 
ඔබත් හොයන්නේ ඔබගේ වෙබ් අඩවියට හොස්ට් ද එහෙනම් දැනට වෙළදපලේ අඩුම මිල ගණන් සමග තත්වයන් උසස් හොස්ටින් පහසුකම් දැන් අපගෙන් ලබාගන හැක.
spamming (unsolicited advertising), from the Cineru Host network, or spamvertising (unsolicited advertising of) sites hosted on the Zircon Host network is STRICTLY prohibited.